I was reading ESPN today trying to get some election coverage and I came across this gem in the Tuesday Morning Quarterback section. I, like I'm sure many other fans were, was questioning the decision to go for a field goal when Whisenhunt sent out the Special Teams in this position. I know it cuts the deficit to three scores, but how many of those tries are you going to be in as good a position as picking up a fourth and 2 from the 10 yard line? I don't know if this whole theory of only doing it to prevent the shutout is accurate, I sure hope that it isn't, but it at least brings up a point about questionable decision making. Our coach had packed it in in the third quarter of that game. Is there any surprise why we have had TWO five game losing streaks and soon to be six game losing streaks in the past two years? That is inexcusable. Guys are not showing up to play and they aren't playing with heart. I know a losing streak can do that to you, but this team got on a losing streak because it wasn't prepared to handle adversity.
What do you think? Was it just Whiz trying his idea of giving us a chance to win or was he just happy with us not getting shut out? Do you agree with the message he sent to his team?

Taken From TMQ on ESPN (written by Gregg Easterbrook):
Buck-Buck-Brawckkkkkkk: Hurricane Sandy caused many to miss the Niners at Cardinals "Monday Night Football" game. In case your power was out, here is what happened: San Francisco leading 24-0 at the end of the third quarter, Arizona faced fourth-and-2 on the Niners' 10, and kicked a field goal. Let's hope the football gods had no Internet service and missed that awful decision by Ken Whisenhunt. "Monday Night Football" before the home crowd, trying to snap a three-game losing streak, one quarter left -- kicking on fourth-and-short. Arizona followed by kicking away, not onside kicking. These were among the lamest decisions in coaching annals.
Pulling within 21 points was not the goal -- the apparent goal was to keep a shutout off Whisenhunt's résumé, so that when he faces his end-of-season review and might be fired, one of the complaints won't be, "We got shut out on 'Monday Night Football.'" A coach who's more concerned with keeping a shutout off his résumé than with trying to win is a coach who should receive cab fare to the airport.
[+] Enlarge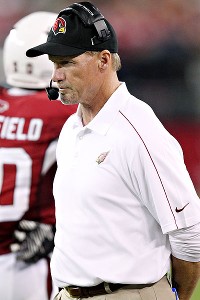 AP Photo/Paul ConnorsHis résumé was more important than trying to win.
As the field goal boomed, TMQ wrote the words "Cardinals season over" in his notebook.
And yea, verily, Arizona went to Green Bay and played like a team that has already quit on the year. Packers leading 24-17 late in the third quarter, Green Bay lined up with tight end Tom Crabtree in the backfield as an apparent extra blocker on second-and-4. Aaron Rodgers play-faked; Crabtree ran straight down the field on a seam route; both Arizona safeties ignored him, as did an Arizona cornerback who had no one to cover; 72-yard touchdown run-and-catch by perhaps the lowest skill player in the contest. The Cardinals started the season 4-0 and since are 0-5.