Here's a quick look at the Cardinals' 2008 draft class.
16(16) Dominique Rodgers-Cromartie CB Tennessee State (6'2 182)
Rodgers-Cromartie has the size and speed to match up with any receiver and he can cut on a dime. He quieted concerns about facing small-school competition with an excellent showing during Senior Bowl week and an outstanding performance at the combine. In addition, he can line up at free safety and he has the range to play a center fielder type role. In addition he's an excellent kick returner. He'll have to add some bulk to his slender frame but he'll be on the field early in Arizona.
19(50) Calais Campbell DE Miami (6'8 282)
Campbell has great size for a defensive end and has a great burst for a man of his size. He has problems with cut blocks and linemen getting under his pads because he is so tall but he's also able to use his height to knock down his share of passes. Campbell had a sub-par second half in 2007 leading to his stock falling into the second round. He's a first round athlete though and will be one of the most athletic 3-4 defensive ends in the league.
18(81)Early Doucet WR LSU (6'0 212)
Doucet is the kind of receiver who doesn't get the attention that he deserves. He isn't the tallest, fastest or most dynamic player on the field but he's a competitor. He can go over the middle and make the tough catch, he's elusive with the ball in his hands and he's a great blocker. He fell in most team's minds after a slow 40 time (4.59) but a hamstring injury slowed him his entire senior season. It won't take long before the coaching staff starts comparing him to another former quarterback, Hines Ward.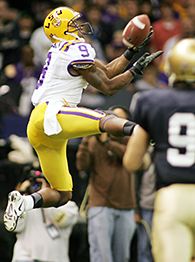 17(116) Kenny Iwebema DE Iowa (6'4 265)
Iwebema is athletic and has the frame to develop into an effective run-stopper, but the big knock on his game is that he isn't much of a pass rusher. The good news is that he's stout against the run and as a 3-4 DE that's his job. He'll have to add some bulk before he's ready to get on the field but he'll find his way to play even if it's just in a rotation as a rookie.
14(149) Timothy Hightower RB Richmond (5'11 224)
The first pick that made me scratch my head was Hightower and it's not that I don't like his game necessarily. The problem I had with the pick was that he would have been available much, much later possibly even after the draft as an undrafted free agent. The good news though is that he's a tough, between the tackles runner with good vision and instincts. He won't break many long runs and doesn't have a second gear but he can catch the ball out of the backfield. If he's able to make a living in short yardage situations and around the goal line, he could save Edge from some of the pounding and help extend his career.
19(185) Chris Harrington DE Texas A&M (6'5 268)
Harrington was a defensive end in college but he'll attempt to convert to a linebacker in Arizona. At nearly 270 pounds he'll have to trim down some to be an adequate outside linebacker but he's shown a burst and decent ability to get to the quarterback. He's a high motor guy who never quits on a play and will chase plays down from the backside.
18(225) Brandon Keith OT Northern Iowa (6'5 343)
Keith is a mauling offensive lineman who is stout at the point of attack and has the size and quickness to play either outside at tackle or inside at guard. He played at three different colleges and it has left his technique is very raw since he never got consistent coaching. His commitment to the game has come into question at time because he left Oklahoma twice in favor of smaller schools. This is a classic case of a guy will all the tools who has yet to put everything together.
We'll dive into each player individually as the week goes on, but what are your initial observations of the 2008 draft and your new Arizona Cardinals? Overall I think they got at the very least two solid starters in DRC and Campbell as well as guys who will see the field early and often in Doucet, Harrington, Iwebema.